Beauty salons have been greatly affected by this year's pandemic. With the first Covid-19 vaccines now being administered, we speak to six industry professionals about how they have coped with 2020, and their hopes for the future.
Elizabeth Chandler says that after a tough year "the vaccine could be great for the industry".
She is the owner of London-based eyelash extension business – Elizabeth Chandler Lashes – whose clients include model Cara Delevingne, singer Nicole Scherzinger, fashion designers, and dancers on the TV show Strictly Come Dancing.
Like all UK beauty treatment businesses, she had to shut up shop in March, given the close face-to-face nature of much of her work.
"My income went to zero for six months," says Ms Chandler. "I built my business for 13 years, and I was unable to work for half a year. [Previously] I have never been out of work in my life."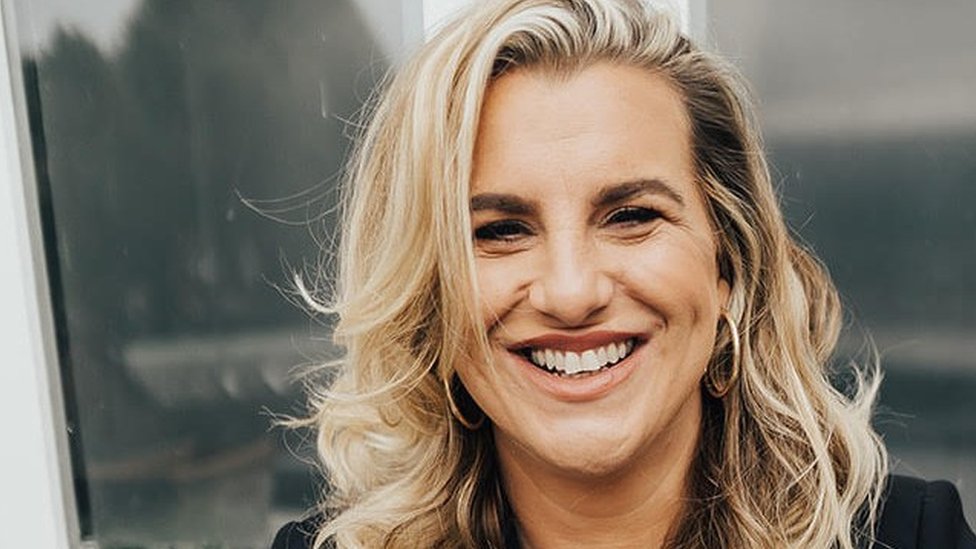 In a bid to retain her clients Ms Chandler held weekly free Zoom tutorials, before finally reopening in August – only to have to shut again during England's second lockdown in November.
"Any mass vaccination programme will take a long time to roll out," she says. "But the tier system as it stands means we [in London, currently tier two] can all open and continue to work, which is wonderful."
In Wales, Poppy Johnson, a make-up artist in Bangor, Gwynedd, took her business Faces By Poppy online this year. She expects to continue with internet classes even after the pandemic has finally ended.
"As soon as the lockdown was announced I made the decision to pivot my business instead of pausing it," she says. "I needed to carry on working not only for my mental health, but to maintain the creativity and passion for what I do."
So she began offering weekly tutorials on Zoom to those who wanted to learn new make-up techniques. "I wanted to take the experience I would normally offer in the salon, online," says Ms Johnson.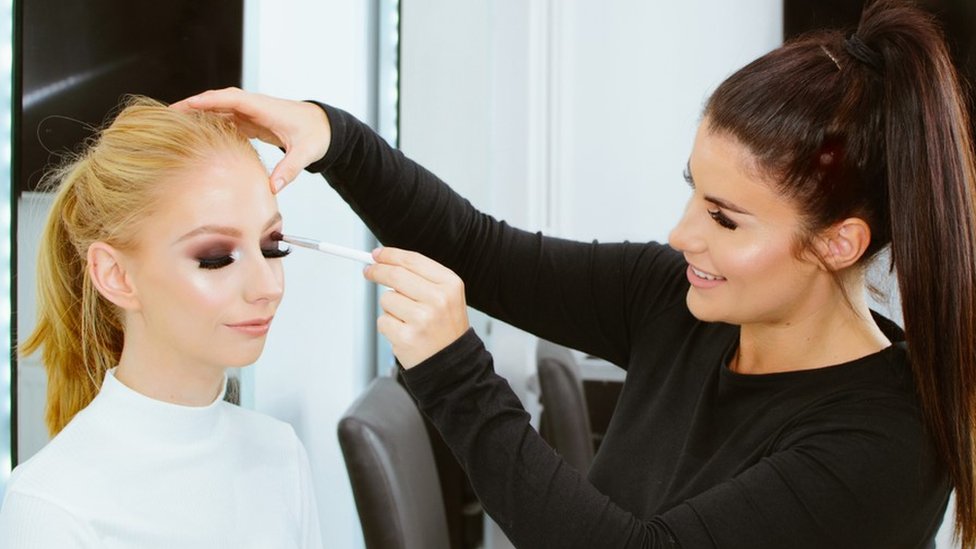 As the lessons became popular she created an online subscription portal. For a one-off fee it gives customers access to make-up tutorials and product recommendations. She says she now has more than 250 people signed up.
Emma Appleby, who runs London-based skin clinic L'Atelier Aesthetics, has also embraced the commercial opportunities of online video conferencing.
Since the first lockdown she has used Zoom for consultations with her clients – giving them advice on their skin needs, then a personal prescription of products.
"The pandemic has meant we've had to pivot and engage our clients online," says Ms Appleby. "In these times you really do need think outside of the box."
Skincare specialist Katie White, owner of another London salon Re:lax, also went online during the first lockdown, but says customers took a while to get used to it.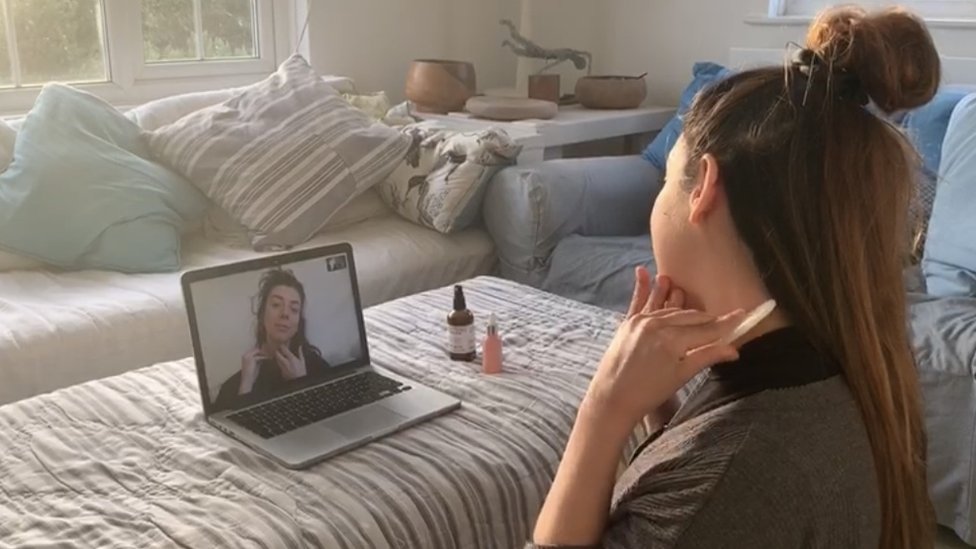 "We went all in with our online offering, hosting paid and free facial massage, gua sha, rosacea, and [general] skincare workshops, online consultations and seminars," she says.
"Initially customers weren't keen as they thought we be open again soon. Once they realised this wasn't the case they were more receptive to our online presence."
Leslie Blair, chair of the British Association of Beauty Therapy & Cosmetology, says that 2020 has been "catastrophic" for the sector, but that vaccines will improve things.
"Most industries stand to benefit from the vaccines, but naturally even more so those considered to be close contact businesses, such as hair and beauty," she says. "There will be dual benefit in terms of the impact it will have on the way in which their salons need to function, and in the confidence and peace of mind it will provide to the clients they serve.
"The vaccine will prove pivotal to a positive outlook for our industry for a variety of reasons – as mentioned already it will boost customer confidence – naturally resulting in increased bookings."
She adds: "It will also mean that a number of restrictions currently in place will ultimately be able to be eased – many of which have had a detrimental impact on the profitability of our businesses. These include staggered appointments, limitation on staff numbers, cost of PPE equipment, restrictions on treatments and who could be treated."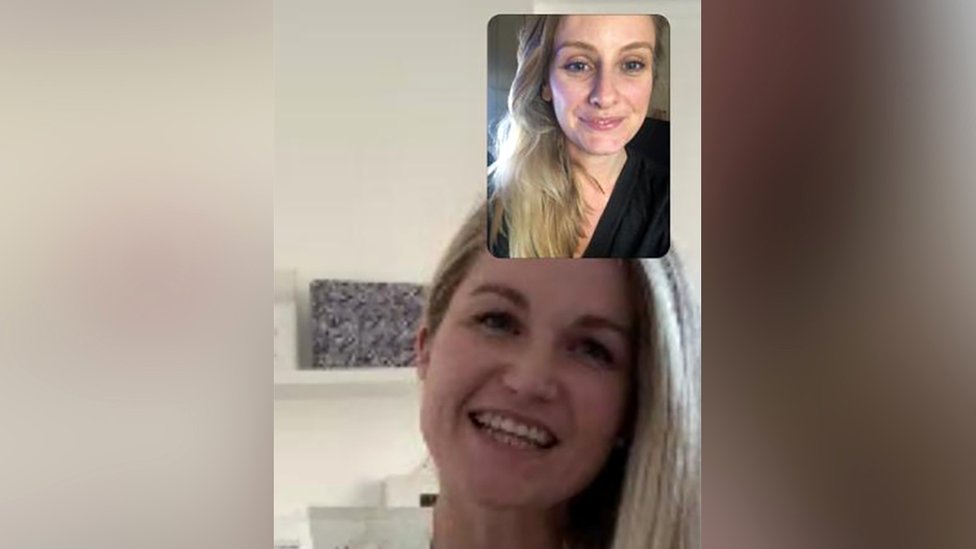 Susan Vaughan, boss of beauty salon SV Aesthetics, agrees vaccines offer "a little glimmer of hope that things are moving in the right direction".
"In the beauty industry we are face-to-face with our clients all day, every day, so if the vaccine ensures people feel safe and well protected, then I can see things slowly but surely going back to how things were prior to March.
"We will continue to wear our PPE and face masks, and sanitise the clinic after every client, to keep any risk as low as we can. But with the added protection of the vaccine I have high hopes for a thriving business year in 2021," adds Susan.
By Sarah Finley
Business reporter, BBC